Isabelle Chaffaud was born in 1975 in Paris, France. She completed her dance education at the Conservatoire de Tours and the Conservatoire National Suprieur de Lyon. She spent lage part of her dance career with engagements with the Ballet du Grand theatre de Genève, de Batsheva Dance Company and the Nederlands Danstheater I.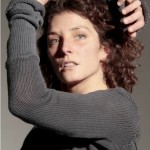 Isabelle Chaffaud leads together with Jérôme Meyer the collective MCDance Meyer-Chaffaud, based in the Netherlands. Since 2009 they have explored the dialogue between physical language and other disciplines. They are choreographing or restaging pieces for international companies such as Introdans, Scapino Ballet Rotterdam and Geneva Ballet. Their creations are performed nationally and internationally. In 2012, Introdans toured Master of Puppets during the STEPS festival CH.
MCDance Meyer-Chaffaud is a dance ambassador in festivals of other disciplines such as: E-pulse (digital art), Off Center Amsterdam and TodaysArt (contemporary art). They present site-specific creations including the Kamerdans project performed in 72 houses in South Africa, USA and the Netherlands. Meyer and Chaffaud teach throughout the Netherlands and abroad. They choreograph pieces for students of dance universities in the Netherlands (Codarts, ArtEZ, National Ballet Academy, AHK) and have given workshops and classes in the USA, South Africa, Italy, Portugal and Switzerland.